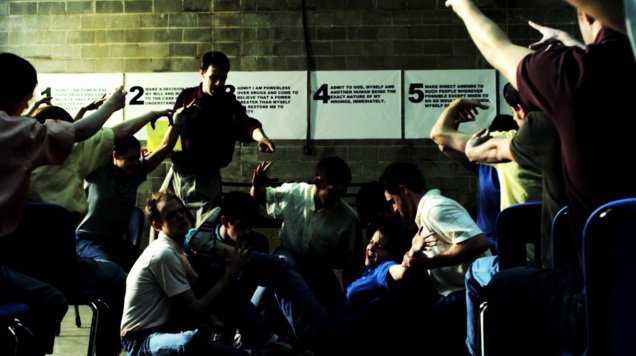 One false dichotomy is consistently hurled around in the substance use debate: Should we send 'addicts' to jail, or should we recognize that they have a disease and do the compassionate thing – send them to treatment?  This is a load of nonsense for many reasons, but perhaps most poignantly for the fact that many rehabs are worse than prison.  Our example: a popular chain of adolescent rehabs called Straight Inc, which treated over 50,000 adolescents between 1976 and 1993.  They're the subject of what promises to be an enthralling new documentary.   Straight Inc's abusive methods were closely tied to those of Synanon, The Seed, and general practices of so-called Therapeutic Communities.  Although Straight is no longer in operation, their methods are alive and well in the treatment industry, so it pays to be informed about what went on there, and where it all comes from.
In this piece, we'll take a look at Straight Inc itself; the philosophy that drives both general ineffectiveness and abuse in the addiction treatment system; one family's story of 2 different paths to change (one ends with death, the other leads to successful change and growth); and a look at the new documentary Surviving Straight Inc, along with some gripping video clips.
The Straight Inc Basics
The horrors of Straight Inc were brilliantly documented in the 2006 expose of the troubled teen industry "Help At Any Cost" by addiction journalist Maia Szalavitz.  In the book, she lays out many scary practices.  The admissions process to straight came right out of the recovery industry's playbook – in the section titled "denial."  Essentially any child who arrived at Straight would be considered an addict in need of their services.  They'd go through a catch 22 interview run by Junior Staff Members, themselves children who were graduates of the program.  If they admitted to any substance use, they'd be considered addicted, or at risk of addiction, or assumed to be minimizing their drug use and in denial of the full scope of it – thus addicted.  If they denied that they were using any drugs at all, they'd be considered to be lying or "in denial" which of course is also a sign of the disease of addiction.  So either way, if you showed up in Straight's offices, chances are that you'd end up in the program, whether you "needed it" or not.
They'd sweep you off to be admitted into the program, and then pressure your parents into going along with it.  You'd spend all day long at big group meetings in their facilities where a failure to sit up straight at full attention would quickly result in having other members of the program drag you to the ground and physically restrain you by sitting on your chest.  Then you'd spend your nights living in the homes of more accomplished members, locked in their bedroom with the bed pushed up against the wall.  Any time you moved anywhere, including going to the bathroom, another member would hold you by the belt-loop on your pants.  If you escaped, you'd be physically hunted down and brought back to straight, essentially kidnapped and imprisoned.
Psychological abuse was also rampant, with enrollees taught that they're worthless, sinners, that they'll never change.  Homophobia was rampant and an accepted part of practice.  And sexual abuse/rape within the program was practiced enough that it caused one graduate/staff member who was a true believer in the program to dedicate his life to protesting Straight for several years.  His quest is covered extensively in Help At Any Cost – he took up the cause after he was punished and demoted by Straight for bringing his concerns of sexual abuse to his superiors. There are many complaints of sleep, food, and water deprivation by survivors. And finally, they actually practiced something called spit therapy. There is seemingly no end to the tales of horror that went on at Straight Inc.  The aftermath has resulted in a high rate of suicides and survivors experiencing post-traumatic stress disorder.  Scandals erupted, and most of the Straight Inc locations were eventually shut down, but a trail of victims lies in their wake – and new victims are sure to emerge as former Straight Inc associates have opened copycat programs under different names – and many therapeutic communities which come from the same Synanon roots as Straight Inc are still operating today.
Control
"If she were my daughter, I would pack her car full with illegal substances, send her on her way, call the police, and make sure she was arrested. I would make sure she was not allowed to get out of jail. I would then go to the judge  and make sure she was ordered to a minimum of a three year sobriety program."
It's easy for us to laugh at or dismiss the above quote, because it comes from a man who's a total joke – Dr Drew.  But he wasn't joking when he said it, and after some people were outraged by the comment, he doubled down on it while seeking to clarify his position in a piece he wrote for Huffpo (note that he said this in a form of : I wasn't saying, as an expert on addiction who authoritatively tells people how to help addicts, that people should frame their children, I was just saying that I personally, the guy who presents himself as an authority on addiction and makes a living telling people how to help addicts, that I would frame my own children if I were in this situation. –  Such doubletalk is a nasty habit picked up in 12 step circles):
"Family members have to be willing to go to any lengths and unfortunately this often means bringing about circumstances that restrict that individual's freedom……  I am talking about painful interventions that save lives."
Here, Drew is exposing the ugly heart of the treatment industry: all of their methods are based on the idea that confrontation, command, and control are the proper way to help someone with addiction.  Some call it tough love, Mr. Mark Scheeren, Chairman and co-founder of the St. Jude Retreats calls it The Control Model. "It is commonplace for an industry to find ways to make the processes in their respective models more efficient, not for the benefit of the client, in this case those with substance use issues, but rather for the staff. When this shift away from compassion occurs, it can be downright astounding how much mistreatment can occur to make someone's job easier. I have seen people in positions of authority throughout the drug and alcohol treatment community create policies of control that literally destroy people's chances at sobriety, and also create inaccurate and sometimes false diagnosis so that greater control can be wielded over the vulnerable patron.  This control model approach is the treatment model in America today. Thankfully we now have an alternative that is not based on this damaging control based approach that allows people the freedom to think for themselves and naturally grow past their counterproductive habits." Whatever you call it, the message in the Control Model philosophy is clear: we know what's right for addicts, and they must submit to our control or face the consequences we'll impose.
There isn't much different in principle between framing your child and having them arrested as a way to get them into rehab – and physically restraining and beating children (many at straight ended up with all sorts of injuries; broken bones weren't unusual) to scare them into staying sober and following your commands.  Nor is applying social pressure very different in kind.  And convincing someone that their behavior is a sin against god for which they'll pay in the afterlife certainly fits with this spirit as well.  While the following are less serious examples, you'll see shades of the controlling mindset when you find that most rehabs arbitrarily limit communication with the outside world, dictate what their clients can and cannot eat, mandate "volunteer work" or chores, control what television shows may be watched or books may be read in off-hours, and impose all other sorts of strange rules.  All of these tactics, and more, are an attempt on the part of addiction treatment staff to substitute their own judgments, desires, and choices, for the troubled person's own potential thoughts and choices about how to live.  As Scheeren says, it's also an attempt to make the job of treatment centers easier.  This is what the recovery industry does at all levels, they try to cure addiction by imposing any number of controlling measures upon the troubled individual.  In the process, they avoid free and productive interaction between staff and clients, leaving the clients utterly unprepared to leave the treatment system successfully – they're used to being controlled, and they haven't gotten the chance to direct their own behavior more successfully, which is why they're their in the first place.  Such a mode of operation is responsible for the revolving door nature of rehabs.  This is the control model approach to addiction, and if you believe in it, then you will ultimately progress from first imposing your views about drug use and badgering a troubled person to accept them – all the way up to physically forcing that person to stay sober.  If the psychological control doesn't work, you'll eventually get to physical force as a means of control.  That is, extreme programs like Straight Inc are only carrying out methods that are logically implied by the rehab industry's fundamental philosophy of treating by controlling.
Make no mistake, all rehabs would engage in physical methods of control, if they could get away with it.  Straight Inc, and other adolescent rehabs utilize physical methods of control and abuse because, in short, they can get away with it, and it brings temporary results.  Children who are sent to such facilities usually have reached a degree of estrangement with their families in which trust is non-existent, and if they are able to communicate with their parents, any reports of abuse or mistreatment are dismissed as lies and manipulation designed for the child to get out and continue to use/abuse substances.  Adolescents then, are easily pushed around and have little immediate recourse.  Eventually, they get the picture that they're going to have to tolerate the abuse, and do all they can to minimize it, so they fall in line, and some behavioral change is temporarily achieved.  Whether the change is long lasting or not, is another story.  Perhaps they do permanently stop abusing substances, but then they're saddled with a whole other set of psychological issues which can result in dire consequences.  Or in many cases, they simply comply until they get out and reach the legal age where they can no longer be forced to endure such abuse, whereupon they return to rampant substance use.  And still, in other cases, there never was any real substance use problem, and there isn't one when they get out of the program – so it looks as if the abusive methods of control were a success when they really weren't.  Adolescent rehabs utilize both psychological and physical control and abuse.
What's more, the participants of such programs are controlling each other.  When one is out of line, an advanced participant is supposed to restrain them, or otherwise cause them to behave differently with social pressure or verbal abuse (the spit therapy previously mentioned).  The genius of these peer based methods of control utilized in Straight and other TC's is that when bones are broken, or hurt feelings lead to a suicide attempt, it didn't happen by the hand of an employee.  Thus their model of "treatment" takes most responsibility for wrongdoing off of the actual treatment center.
The following clip of an interview from Surviving Straight Inc should give you ample insight into the psychological damage caused by peer based methods of control. As survivor Marcus Chatfield eloquently puts it "Once you realize you were abused, you also realize you were an abuser…"
Most adults, legally able to refuse such physical control and abuse would not tolerate it for long, and quickly check out of any program which employed it.  So the rehabs which treat them mainly use psychological control and abuse – and often refer to it as "humbling" them.  In short, the application of ego deflation and guilt which is also used in adolescent rehabs, is the main form of control used on adults in rehab. This may change, and I suspect we'll hear tales of more physical control and abuse in adult rehabs as the Marchman Act gains popularity, a law which makes coerced treatment an equal opportunity for all ages in some states.
When such an approach doesn't work, the victim is commonly blamed. Their crime?  They failed to fully submit or surrender to some sort of outside controlling force (to either their counselors or a "higher power").  Volumes could be written about why this doesn't work, and what the alternative is, but I'll try to sum it up quickly here.  The control approach doesn't work because the troubled individual never has the chance to practice making choices that are based on their own internal motivations to have a good life and do things that bring such a life about – instead, they practice making decisions as a means to avoid punishment and abuse.  Gone are any personal considerations about whether the behavior in question brings you good results in your life, instead, you're in a battle for control over your own decisions.  The real solution is the opposite approach – engaging the troubled individual to use their mind, tap into their own values and goals, to consider their options, and to experiment with self-motivated alternatives to the troubling behavior.  The methods for doing this  are empowering rather than controlling, straightforward, involve rational respectful discussions, cognitive exercises, and education in goal setting techniques among other things. Some solutions for drug problems are on the right track with this: Smart Recovery, methods based on Motivational Interviewing, and The St Jude Program come to mind for me.
"The control approach doesn't work because the troubled individual never has the chance to practice making choices that are based on their own internal motivations to have a good life and do the things that bring such a life about – instead, they practice making decisions as a means to avoid punishment."
Don't just take my word for it, check this interview with Straight Inc survivor Samantha Monroe for clues to this reality. As Monroe says: "I had no time to dream, to realize anything for myself."
Somehow, the tough love and the control model philosophy is attractive because it attaches itself to a few reasonable measures.  Some parents find themselves saying to their children (adult or adolescent) "I think you're behaving dangerously, and I can't be a part of it by making it easier for you to do so by providing food and shelter."  There may be times where that decision to kick someone out on the street is a rational one, but withdrawing support is different from imposing control though, and should never be lumped in with the kind of "lengths" that tough love advocates like Dr Drew engage in and expect other people to go to.  The tough love movement steals credibility from some rational measures parents have taken to stop funding drug use or expose their children to the reality of life – and attaches that credibility to a pattern of destructive confrontation and control.
One Family's Story
Indeed, most parents are willing to go to any length to help their children, and many will even engage in "painful interventions" when supposed experts advise them to do so – which brings me to the impetus for this article.  The Matthews were the kind of family who was willing to go to any length to help their son Steven.  When he got involved in drugs and alcohol at an early age they sent him to Straight Inc.  This wasn't a lock him up and throw away the key situation, Straight Inc demanded a high level of involvement from the family.  The parents had to get involved with other parents, attend several meetings a week at Straight, be willing to eventually host other troubled children from Straight in their own home, and any other siblings had to attend special meetings too.  They truly were willing to go to any lengths to help their child.
Steve was involved with Straight Inc from 15-18 years old – during which he had little contact with his family, and escaped the program 7 times only to be forcefully dragged back in, one of these times he even jumped from a moving vehicle to escape.  He finally escaped Straight's clutches for good the eighth time when he turned 18 and was able to legally remove himself from the program.  What's more, his family was no longer intact – Straight had pressured his father to quit drinking altogether, or move out, and eventually he chose to move out. They had broken up his family. At the point when Steve left Straight, his distressed mother did the only thing she thought she could do – refused to allow him back home unless he would attend AA meetings. Sick of being controlled and subjected to cults, he refused this condition. He ended up living for some time with old friends, and shortly thereafter checked himself into a motel room where he jumped to his death from a fourth story balcony.
Confrontation and control did not help Steve Matthews, it destroyed him.  Such abuse helps no one – but when you feel that troubled substance users are incapable of self-control, and that the only way to help is to attempt to control them, then abuse is the logical consequence.  Such an approach often leads to failure at changing the problematic behavior, at best, and devastating suicides, deaths, or newly acquired psychological problems, at worst.
A Different Path To Resolving A Substance Use Problem
I know of Steve's story from his younger sister Kelly.  She has made it her mission to spread awareness about the horrors of programs like Straight.  She's got a website where she tells her brother's story, and an upcoming feature length documentary about Straight Inc.  Perhaps most importantly though, her own life serves as an example of the alternative to the control model.  She's set a powerful example of self-change without even realizing it.
I spoke to Kelly last week, and she told me about her own problems with substances.  She was just 13 years old when her brother was first shipped off to Straight.  While she luckily never ended up in the full Straight program, she was nonetheless required to attend special meetings for the siblings of 'straightlings.'  At 18, like many other college students, she began to smoke pot.  She carried on this activity for 10 years, and it caused few if any problems in her life.  Certainly, it caused less turmoil than the devastation of how and why she lost her brother.  She stopped smoking pot (on her own), moved out west, but continued to toy with drugs and alcohol occasionally.  Eventually, she did get into a pattern of use that was troublesome.  She used quite a bit of cocaine, and a prescription drug, Xanax.  After 6 months to a year of this, she realized that she was experiencing withdrawal symptoms from the Xanax, so she asked her doctor for some help, and he helped her to detox by prescribing a milder form of Xanax which she was able to use to taper off of the drug without dangerous complications.   There was no inpatient help, no traditional addiction treatment, no counseling, and no meetings involved.  The doctor only helped her with avoiding medical complications, he did nothing to control her choices.  However, she continued to do cocaine and powerful methamphetamines, and accelerated into a more extreme pattern of use with those drugs.
Interestingly, Kelly's period of problematic use coincided with learning more about her brother's experiences in Straight, and the discovery of his suicide note all these years later.  While she doesn't blame her use on this, it was some added stress which was weighing on her at the time.  In addition to this, she changed from an office job to working from home.  These factors, while not determinants of an addiction, helped to set the stage for more problematic choices.  Kelly's cocaine use accelerated to freebasing, and she was also using what she personally considered a much more serious drug, methamphetamine. Eventually, she had a physical injury which sparked some consideration about whether she should make some changes. Kelly reached out to her mother for help, who responded by flying out to see her, helping her with the injury, as well as providing love and moral support.  She never asked Kelly to go to meetings or treatment – both of which she probably wouldn't have attended or benefitted from anyways, since she did not believe that addiction was a disease.
The entire period of problematic substance use lasted 2-3 years for Kelly, and she simply decided to end it.  She went back and forth a bit as she first stopped using cocaine and meth, but her resolve remained strong.  It didn't sound like this was a planned part of quitting, but at the same time as she ceased use, she moved back East to her hometown, started up a new romantic relationship (more serious than any other she'd ever been in) with a Straight Inc survivor who she'd been involved with through her activist efforts, and started work on a documentary film with others who'd been involved with Straight.
That was four years ago.  Kelly hasn't had a problem with drugs since.  She may drink or smoke occasionally, but it's at such low levels that it causes her no problems.  What Kelly probably didn't know, was that she was doing much more to address her addiction than she even realized – she was making big changes to improve all aspects of her life, she embarked on a personally meaningful undertaking (the film), she was developing new habits by investing in more fulfilling rewards than the cheap thrills of substance use.
Kelly engaged in what is known in addiction research circles as "self-change."  She changed her substance use habits without the help of the conventional recovery models or rehab systems.  She did what the majority of people who permanently end their addictions do – she simply moved on with life instead of becoming obsessed with her past mistakes and struggling to recover from an imaginary disease.  She did all of this without anyone forcing or guilting her into it, without treatment programs, and without 12-step meetings.
The key point to remember about Kelly's story is that she was free to make her own decisions, to think for herself, and to pursue a life and goals that were internally motivated and personally rewarding.  Programs like Straight don't allow for any such thing – nor do most 12-step based programs.  They arbitrarily assign behaviors and goals which have nothing to do with the suffering person's personal goals.  In the case of Straight, it seems like the only activity one is allowed to engage in is being lectured, expressing their devotion to the program, and psychologically abusing each other.  At the end of the day, they had to do "moral inventories", but morality revolves around personal behavior and whether one's choices, thoughts, and behavior are of the nature that lead to personally judged integrity, success, and fulfillment – yet how can someone who has no freedom to make their own choices, express their own thoughts, and follow their own goals ever be in a position to assess themselves morally?  They can't.  They can only reflect on whether or not they've complied with an imposed course of behavior and set of moral views.  Likewise, in 12-step programs, people are taught to deny their own self-interest, and take on as their primary goal the act of spreading the 12-step program, winning new converts, and abiding by the dogma of AA.  Again, this is yet another controlling approach which allows for no personally motivated behavior, and thus allows for no personal growth.  It's no accident that 12-step programs also include a nightly moral inventory of sorts – reviewing one's "character defects."  When does someone get to review their day and ask themselves "did I do things today that bring me closer to my own personal vision of a happier more fulfilling life?  Did I move closer to my own goals today?  Did I live up to what I think is important, right, and good"  There certainly isn't much room for this in today's addiction treatment system.
Doing Nothing Or Doing Something
So here we have two distinct paths for people with substance use problems.  The first is to go to a controlling domineering program billed as compassionate medical care, Steve's path – the second is to focus on personally improving your life, Kelly's path.  In this case (and I would suggest always), the second path obviously worked much better.  But the second path might simultaneously be seen as "doing nothing" – that is, no outside help is involved, it's entirely self-directed.  Unfortunately many people feel the need to "do something" about the problem, and don't know where to start – and parents certainly don't feel right sitting back watching their loved ones kill themselves with self-destructive behavior.  At this point, the controlling policies and practices of the treatment system have shown through mountains of evidence to be ineffective at increasing success.  What's more, the evidence of harm caused by this model is beginning to pile up as well – the suicides of Straight Inc alumni is but one extremely chilling and extreme example of the damage done.  We should be abandoning the control model, and embracing something which harnesses the factors of self-change.  There are ways to "do something" about addiction without being controlling, manipulative, and confrontational.  Hopefully if you look through this blog, you'll find examples of how to put these principles into action – again, there are some alternative approaches who are on the right track with this.
Surviving Straight Inc – The Documentary
Here's the trailer:

The film, which is yet to be released (stay tuned to http://www.survivingstraightincthemovie.com/ for updates), was the brainchild of not only Kelly Matthews, but 3 other Straight Inc survivors who had connected on the web: Marcus Chatfield, Todd Eckelberger, and Alex Layne.  Kelly originally connected with filmmaker Christopher Oroza who had read her website with stories about Straight, and contacted her about helping him to make a short documentary about it for his class at Florida State University.  Florida is ground zero for Straight Inc though, where the organization still exists under the name of The Drug Free America Foundation.  Shortly after Oroza showed the short, he got a chilling personal taste of Straight's intimidation when he found an ominous note taped to the front door of his home which read "You won't Survive Straight Inc."
The incident (reminiscent in spirit of an attempt by Synanon to take down a detractor by placing a live de-rattled snake in their mailbox) was so creepy that Oroza severed all contact with the Straight survivors.  However, despite any potential personal consequences, he hooked back up with the survivors 2 years later to help them tell their story of Surviving Straight Inc in the form of a full feature length documentary, and enlisted the talents of fellow filmmakers Katie Scoones, Andrew Penczner and Patrick Nissim.
From the trailer, the filmmaking looks to be high quality, crisp and clean, the clips of interviews available on the film's site are compelling, and vivid re-enactments are used to bring the viewer into the terrifying reality described by the interviewees. I think it will be an important work to open people's eyes to the darker side of the treatment industry and hopefully spark some debate about the fundamental approach used with troubled substance users of all ages – from teens to disenfranchised adults. I hope to see it soon and give it a full review, and I'll be sure to keep you posted.
There's a real movement going on here, and the film will hopefully lead the way, but that's not all that these survivors have in their bag of tricks: Kelly just launched a new site this month called TroubledTeenIndustry.com.  The site is partnered with Reddit Troubled Teens to provide an active hub for information about the troubled teen industry.  In my opinion, this really is a much needed public service.  Working with troubled substance users I've heard plenty of horror stories first hand – recently.  The stuff that went on at Straight isn't dead and gone, it's alive and well.  Anyone with a troubled child should beware, and do their homework before putting them in someone else's care.  TroubledTeenIndustry.com promises to be a good resource for checking things out, and Kelly hopes it will also be a central place to organize reform.  The site is already providing support for those who have previously been abused by the system.
I think that the story of Straight Inc is so important that I'm going to ask you, my readers to do something I haven't asked of you before: please spread this around, by any means.  If you care about this, then please Diggit it, reddit it, post it on facebook, or link to it in any way possible all over the web.  Attention must be brought to these issues for any change to occur, people need to be aware of a problem before any action in fixing it can occur.