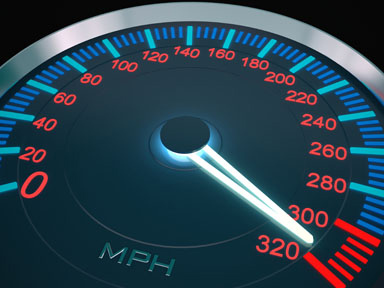 Last week, we discussed the big lesson of Cognitive Behavioral Therapy, which essentially boils down to: thoughts determine feelings and behavior.  As I said, this is important wisdom.  But I was being very generous to CBT when I framed it that way.
CBT definitely is based on that idea, but in reality, they frame it more this way: Your thoughts determine your emotional and behavioral reactions to events.
In CBT, patients are regularly taught a simple formulation, often with a diagram (Figure 1) which shows that you have events and life circumstances, and then you have your consequences of behaviors and emotions – but in between those two, are your thoughts (and beliefs).  The point is that things and events don't directly cause feelings and behaviors – the way we think about those things and events we encounter in life lead to our feelings and behaviors.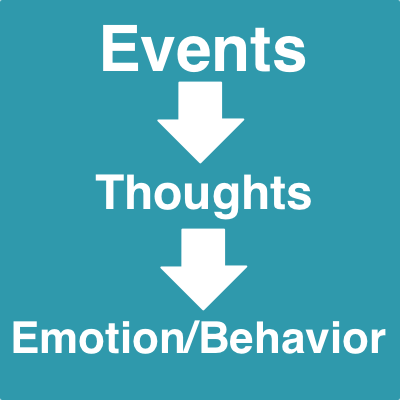 In practice, CBT seeks to teach this model of psychology explicitly, and different schools may take different roads to get there, and have slightly different ways of conceptualizing the different parts of this model.  But what seems to be common is a routine in therapy sessions where the patient will bring up an emotional state or situation that's upsetting them, and the therapist will probe and question the patient about the situation to sort of fill out this model – by clearly defining the events, thoughts, and emotional/behavioral consequences.
As far as I can tell, the model in figure 1 is true, important, and helpful to know.  But I also think it's extremely limited.  When you practice seeing life this way over and over again, analyzing each trouble you have in life in reference to an external condition – then you're learning to live reactively.  Notice that in the model, you're always under the thumb of "events" – some external condition.
Certainly, there are external circumstances we all face which are somewhat unavoidable, and learning to react positively and constructively to those has got to be good.  But isn't there so much more to life?  Do we risk becoming victims of circumstance when this is all we focus on to improve our lives?
The truth is that our thoughts and beliefs do mold our feelings and behaviors, but we aren't a slave to external events unless we choose to be – and filtering every aspect of our life through this CBT formula is orienting ourselves reactively to external events.  In reality, we can do so much more with our thoughts.  We can choose to dream up a better future and think about goals.  We can envision an endpoint of some kind, thus drawing ourselves toward progress.  We are human – we have imagination.  Devices like the personal computer weren't invented as a reaction to the lack of a personal computer!  They were invented because someone dared to dream them up.  We have so much power in what and how we think, that it would be so small to focus only on reactions.
Happy productive lives aren't lived simply as a response to external events – they're lived out in the pursuit of personal happiness as an end in itself.  There is some drive in each of us to attain happiness – will you tap into that internal fire as fuel for  thoughts – or will you just respond to the external?
How about choosing an attitude – before you even encounter any new events.  How about choosing to get something done today, be happy, try something new.  These are all results that start at the level of thought – without having to react to anything other than your own imagination and desire.  You can proactively create your life, and it starts at the level of thought.
A better, forward thinking application of some of the same sage wisdom underlying CBT, would teach not only reactivity – but also, and perhaps more importantly, proactivity.
How about this as cognitive behavioral formula:  Thoughts —> Life.
In such a formulation, it's recognized that thoughts are chosen, and they're beholden to nothing but you.  They can be in direct response to events, and past experiences; they can be in indirect response to events and experience; and most importantly, they can simply be generated by our natural desire for happiness, our imagination, and our ingenuity.
I think CBT has something valuable to offer troubled people, but I think it also misses the point about the potential power of thought.  It appears, especially when compared to more traditional forms of therapy, to be effective in dealing with some psychological problems, but when the troubled person not only wants to do away with some psychological pain, but also wants to build out a better life, they may find that CBT is too narrow and doesn't serve their greater goals.  In my estimation, it's the focus on reactions to external events that limits CBT's usefulness for people looking for more out of life.  This is relevant to me, because I seek to help people with substance use problems, and they usually want much more out of life.
There is a solution for people with substance use problems which goes far beyond reactive living – Cognitive Behavioral Education (CBE) shows you how to rebuild a happier life from the inside out.
This post is part 2 in a series about Cognitive Behavioral theory and approaches.  Read the first part here: CBT's Big Lesson You Can't Live Without.