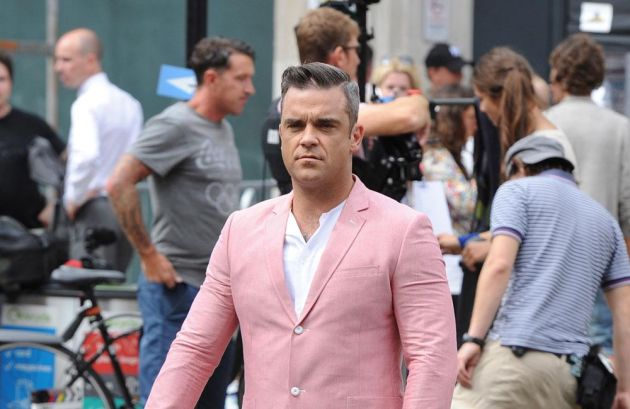 A recent article about british pop star Robbie Williams' addiction woes would be completely stupefying if I didn't already understand its messy philosophical foundation. Williams, now 38 years old, has been dealing with addiction and the conventional recovery world, with all of its self-defeating teachings, since the age of 19, with many documented stints in rehab. Here's a snippet of the latest story going around about him:
Robbie Williams regrets seeking help for his addictions so early.

The former Take That star – who has a history of drug and alcohol abuse – was sober for most of his 20s and wishes he hadn't accepted he was 'out of control' at such a young age.

He said: 'I regret that it was all over so fast. I regret the fact I was 19 when I realised I was out of control.
I regret that he learned he was out of control too. I wish that upon no one. The absolute worst belief you can be stuck with is that you're "out of control" of your own behavior, and it appears that Williams' story of struggle with addiction is perfect proof of this.
The article's headline, and the above quotes make it seem like he simply regrets not sowing his oats enough, but it goes deeper. Although he doesn't say it directly, I think he's really trying to say he wishes he never bought into the idea that he was out of control. I think that something deep inside of him knows that this belief has been his undoing. Stick with me, and you'll probably reach the same conclusion.
It seems that Williams' struggle has been consistent, and shows no sign of changing. As the article goes on to confusingly say, Williams:
admits he hit rock bottom several times in his 20s and would have welcomed death, had it not been for the help of Sir Elton John.

He told Shortlist magazine: 'Many times during my 20s and a short period in my 30s [I hit rock bottom]. In my 20s I was like, 'This is f***ing horrendous' but I didn't think I was going to die.

'The short period in my 30s I thought, 'I'm just about to die and I don't care.' In fact, it would have been a relief.
Which is it – was he sober for most of his 20's, or was he repeatedly 'hitting rock bottom' in his 20's? Neither he, nor the journalist seem to know. What is definitely known, is that in recent years, he's been in treatment for addiction at least 3 times, in 2012, 2009, and 2007. It's reported that he had drug problems in 1995 after leaving his band which resulted in a stint in rehab:
Robbie claimed Sir Elton John "kidnapped" him to seek help for his drink and drug addictions.

He wrote in his book Feel that the singing legend drove him to a clinic in 1997 after watching him binge on heroin, cocaine and ecstasy.

Robbie admitted: "I was sandwiched by two people in the back of the car so I wouldn't try to commit suicide or run off."
This latest story has Robbie suggesting that Elton is essentially his AA sponsor:
The only person I knew who understood anything about it was Elton John. After a big bender it'd be [calling] 'Elton'. How weird is that, when the only person you know can help you is Elton John?'
Elton John of course is a committed 12-stepper who's been to thousands of AA meetings, and often mentions it publicly. I wouldn't fault him for caring, or even for taking drastic action to save someone from suicide, but one has to wonder whether his teachings have been helpful. Williams has now spent half of his life repeatedly hitting rock bottom – since he "realized" that he was "out of control" at the age of 19 (no one realizes such an absurd thing – they're taught this idea by the recovery culture). All of that 12-step nonsense has him believing some really grim stuff, as he said in a 2009 interview:
Robbie said he was still haunted by fears of a relapse, despite being clean of the addiction – believed to be to anti-depressants – for three years.

He said: "I'm aware I have a self-destructive character, but does this hold me back from being happy? No."
That last statement would also be stupefying if you didn't know anything about the recovery culture. Those same people who constantly scream that addiction has nothing to do with morality, character, or personal choice, then turn around and teach people that they are broken: damned to eternal relapse with the disease of addiction, that they've got a spiritual deficit, and that they're loaded with "character defects."
Robbie Williams learned at a young age that he was an "addict" and all the horrible things that come along with that negative label – including being "out of control" or "powerless" over his own behavior. He has subsequently gone on to fulfill the prophecy he was taught. Let's look at his latest statement again:
I regret that it was all over so fast. I regret the fact I was 19 when I realised I was out of control.
Unfortunately, these teachings ensured that his addiction wouldn't really be "all over so fast", and that he would indeed feel and behave as if he is really out of control. It's a damn shame what the recovery culture does to young people – it overcomplicates and heightens their difficulties, and robs them of many years that could've been spent being so much happier. Hopefully, he'll soon realize he's not out of control, and can salvage his life from the wreckage this belief will continue to wreak upon him.