The slogan at this website is "addiction is not a disease, it is a choice", and that pisses a lot of people off. They read all sorts of things into this message that I promise I do not believe nor mean to convey. For example, they often assume that those who say addiction is a choice are saying that it takes willpower and strength to quit. I do not say or believe that –  I made this point back in 2011 – and I've gone to great lengths to continue to explain why such concepts are so out of place in the debate about addiction. Furthermore, such a position isn't even logically implied by the simple identification of addictive behavior as chosen behavior. It's also common for choice model supporters to be accused of calling people "bad" or "immoral" when they express the belief that addiction is a freely chosen state rather than a disease state. It is assumed that the notion of choice automatically bestows shame upon people – when in fact the opposite is true – the disease model which makes addiction into a stable trait actually pegs people as inherently bad, and inculcates shame. Again, I don't say that substance users are bad or immoral, nor is a judgment of badness or immorality logically necessitated when one states that "addiction" represents freely chosen thoughts and behaviors rather than symptoms of a disease.
As of late, the one thing people are adding to this message that really rubs me the wrong way is the idea that by "choice" I necessarily mean something that all people will do in an instant the moment they realize their substance use is causing trouble in their lives. I do not, by any stretch of the imagination mean to communicate this. That is some people's idea of what it means for something to be a matter of choice – but it is not my understanding. Choices are not all simple, and I don't know why anyone would think that they are.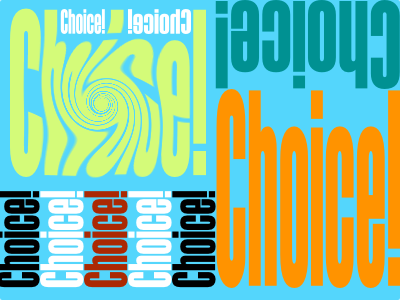 I understand that choices come in all shapes and sizes, and 99% of you reading this probably understand it too. For instance – want that chicken sandwich on white or wheat? That's a pretty simplistic and quick choice to make. What tie shall I wear today? What should I have to drink, Coke or Pepsi? These are relatively simple, one-step choices. A lifetime of developing preferences probably figures into them, but these are simple matters on which to make a call and to carry out. I choose a Pepsi – ok, unscrew the cap and pour it in a glass, then drink. We're done. Choice made and executed. But not all choices are so simple.
However, many disease model advocates act as if all choices are that simple. They act as if those of us who say that addiction is a choice would turn to the person who has a massive substance use habit and say: "agree to quit now, and so it shall be – goodbye!" We understand that choices to make big life changes can't be commanded by others, and that much deliberation goes into arriving at such choices, and into carrying out such choices.
Choices are often very complex processes. But again, some disease model supporters don't seem to understand this possibility when they argue against the choice model. For example, let's look at a few quotes from a commenter on my page about the brain disease model of addiction. This commenter was very angry with me for calling addiction a choice:
Recovery is a process….its NOT A SWITCH (CHOICE) YOU FLIP.
Right there you can see he has an extremely narrow concept of choice. He looks at making a choice like flipping a switch. It certainly can be and is like that in many cases, but not nearly all cases. Look at some other ways he expresses this:
If you are able to just all of the sudden "say no" and quit cold turkey….good for you. But it is not that easy for most. If it was simply as easy as just saying "NO"…..millions and millions and millions would be able to quit after the first trauma, hardship or downfall etc… and there would be no need for "TREATMENT CENTERS".
He also seems to assume that choice happen automatically upon facing some negative consequences – and if they don't do so, then this is evidence that they can't? The assumptions here are too many to deal with. Here he goes again:
IT'S A PROCESS SLATE…..ITS A PROCESS….I REPEAT….ITS A PROCESS!!!! You can't tell "EVERYONE" TO EMPLOY "IMMEDIATELY" WHAT TOOK YOU 5 YEARS (ALLEGEDLY) TO DISCOVER AND APPLY. That's the whole problem with your reasoning. This is why the term "disease" is used. It's used because a person is "AFFLICTED" and many aspects of their life have to go through a transformation. And in most cases…(dare I even say YOU) it takes TIME and treatment. You didn't simply make the "choice" to stop and move on with your life did you?
This last one is really crazy, because he's using the fact that it took time to change as evidence that the change wasn't freely chosen. That's just a non-sequitur. He's referring to my personal history with substance use problems, and he's partially correct – I didn't simply make the choice to stop and move on with my life… for five years. Then I did finally make the choice, when I finally believed that I could be happier without heavy substance use. I chose to think about many things differently at that point, but it was a process getting there. I'm not sure why this would disqualify it as a choice? What about people who toy with the idea of moving to a new town, getting a new job, or ending a relationship. These are big decisions that can drag on for years as a person goes through a process of discovering that these are the choices they really want to finally make.
---
Would you agree that becoming a doctor is a choice? Would you also agree that it doesn't happen overnight? You obviously don't choose to be a doctor, snap your fingers, and wake up in the morning with a stethoscope around your neck and your own private practice at which you'll be seeing patients. But it is a choice. You don't just fall into it. You don't become a doctor by accident. You have to believe that becoming a doctor would be a good fulfilling life choice for you; you have to choose to believe that you can do it; you then have to go get the proper schooling and dedicate yourself to the work; and then you have to get licensed and find employment. It doesn't happen in an instant – it takes many deliberate acts, both mentally and physically to become a doctor. Yet still, the overall journey from non-doctor to doctor would be understood as something that someone either chooses for themselves and to follow through with or not.
Likewise, if you had become a doctor, but you were thinking of moving more into research, or maybe you wanted to do something altogether different or to retire, then these choices would be processes too. Most notably, they may take a lot of time and deliberation, and you may go through great bouts of fear while choosing to leave your current position. What will it be like? Will you fail at your new endeavor? Should you just stay where you are? These are tough issues to sort out mentally, but they're all part of making the choice to leave that position. There is a turning point where the choice is finally crystalized and fully made – but there may have been years of thought that brought you to that final moment. It was a process, but this doesn't change the fact that it was a choice.
What about making a change in a romantic relationship – like a breakup or divorce. You may go through years of disappointment with a partner, they don't respect you enough, or they may cheat on you, or they just don't have goals that work with your goals. You keep thinking about it, but you don't pull the trigger and break it off. Or maybe you do break it off, then you find yourself lonely and afraid to move on, so you decide to rekindle the unsatisfying relationship. It's a choice to be in the relationship, and it's a choice to leave the relationship. Not everyone leaves at the first sign of trouble – it isn't instantaneous – and not everyone sticks to their choice to break up – many subsequently choose to get back together. But that doesn't change the fact that these are choices. Nor, I should add, does the fact that some people choose to stay in horrible relationships somehow prove that people can't choose to leave relationships. Yet somehow, we think that the fact that some people choose to continue destructive patterns of substance use proves that substance use is not a choice. Think again. Choices are complex. Not all choices are equal. Not all choices are instantaneous. People can make choices that look pretty bad to an outsider, or in hindsight – but that doesn't change their status as freely chosen thoughts and behaviors.
"Addiction is a choice"
What I mean when I say that "addiction is a choice" is that people always have the free will to use substances or not, and that they have the free will to think in ways that create a strong desire for heavy substance use, or they can choose to think in ways that do not create a strong desire for substance use.
I do not mean to send the message that I think everyone who has a problem with drug and alcohol use says things akin to "when I grow up I wanna be a junkie." Yet, it's apparent to me that some deluded people actually think this is what I mean when I say that addiction is a choice – like that old public service announcement:

While some people have told me they admired older drug users and wanted to be the cool tough guy drug users, and in fact did come eerily close to a childhood moment of thinking "when I grow up I wanna be a junkie", this is still thankfully an extremely rare phenomenon as far as I know. So I think it's possible that people choose addiction in that way, but this is not what I mean when I say addiction is a choice.
I think, like the PSA above suggested, that people get into "addiction" by accident, through a bunch of choices. They start using drugs or alcohol; they start to think it's the only way for them to have fun, or to deal with stress, or what have you; and many other thoughts and beliefs come to bear – and then people start feeling as if they need drugs and alcohol. So it's not deliberate "I wanna be a junkie" choosing, but then again, being a junkie or being "addicted" are the wrong ways to look at this anyway. I use the word "addiction" as a shorthand – because that's what everyone calls substance use problems, but I don't think anyone is addicted in the sense of losing control, nor do I think then that anyone is really an "addict" or "alcoholic" even though I use these terms at times. But people get into states where they do feel stuck using, they feel stuck wanting to use. They've made the choices to use, they've made the choice to believe that substances are the best way to serve their various needs, etc. They are in charge of all of these beliefs, and can dismiss them. They can choose to stay in this position, or they can choose to start thinking differently and get out of this position. In much the same way as someone may slowly come to feel inseparable from a romantic partner, but can bring themselves around to choosing to leave them if they suspect they'd be better off with a change.
Getting to a place where you confidently and happily choose to end a problematic substance use habit is a process. Only you can choose the thoughts that get you there. Only you can choose to let go of the thoughts that continue to fuel your desire for heavy substance use. It's a choice. You're in charge of the process. Please don't distract yourself from this truth by getting caught up in the illogical notion that all choices are fully rational or are automatically made instantly – if this were the case, then they wouldn't be choices! Choices are complex, often ugly, and often irrational. Many suboptimal choices are often made in the process of finding one's best option in a given matter. Choices come in all shapes and sizes.
I leave you with a few of my favorite quotes to meditate on. Bastiat, the economic philosopher, and thus student of human motivation said:
No conviction makes so lasting an impression on the mind as that which it works out for itself.
And Pascal, the great french mathematician and philosopher said:
All men seek happiness. This is without exception. Whatever different means they employ, they all tend to this end. The cause of some going to war, and of others avoiding it, is the same desire in both, attended with different views. The will never takes the least step but to this object. This is the motive of every action of every man, even of those who hang themselves.
It's not enough to simply run from the consequences of substance use. If you keep feeling the urge to do it, it's because you believe it's your best feasible option at having a happy existence. But if you know something is upsetting about the depth of your desire for substance use and you want to change – then you, and only you, must choose to change that desire by choosing new thoughts that lead to a new evaluation of your options.