In my signature article on the disease model of addiction, I start off:
They're screaming it from the rooftops: "addiction is a disease, and you can't stop it without medical treatment"!  But why are they screaming it so loud, why are they browbeating us about it, why is it always mentioned with a qualifier?
Those words were first published on this site in 2010 – 5 years ago. "Recovery" activists were screaming it then, they were screaming pretty loudly for the previous 70 years before then, and they're still screaming it today.
But a regular commenter on that article disagrees, chiming in again recently to say:
First off, there isn't anyone screaming anything from any rooftops!
And he's not the only one. I get a constant barrage of commenters and emailers denying that this is an issue. But it is an issue and there continues to be people screaming quite loudly about it. I just need to shut this nonsense down by doing the most basic bit of research that anyone could do at any moment, and demonstrating the results here.
So, I just jumped on Google News to search the exact phrase "addiction is a disease" in recent news. There are 1,970 results. Here is the first page: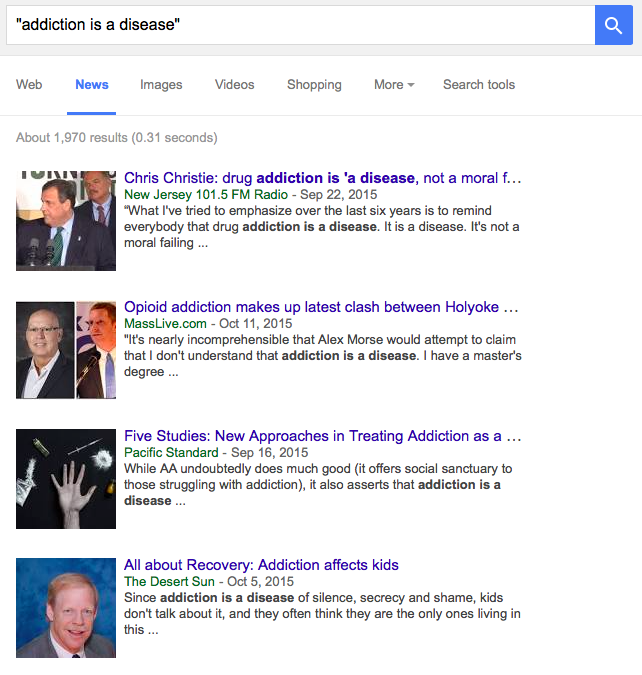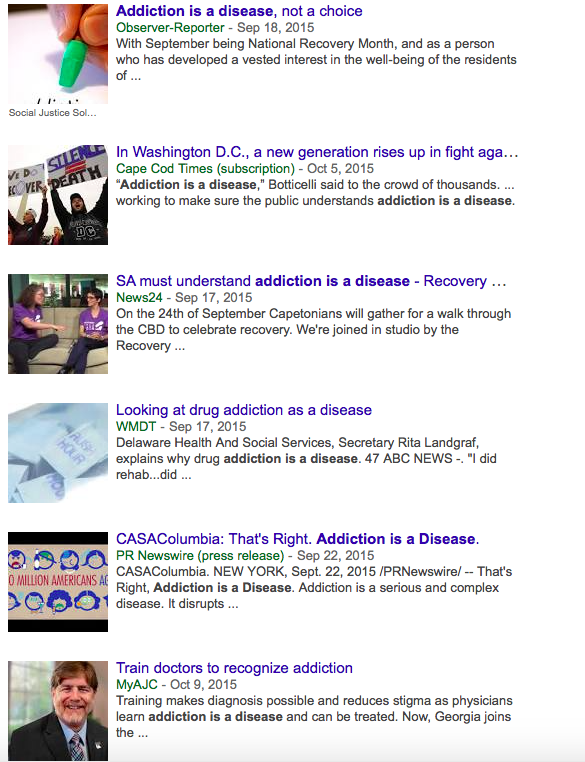 And now, let me review the top results…
Article #1 has Governor Chris Christie bragging about his efforts to have addiction treated as a disease in his state (as if it isn't already – LOL):
"What I've tried to emphasize over the last six years is to remind everybody that drug addiction is a disease. It is a disease. It's not a moral failing," Christie said.
Article #2 has two mayoral candidates (from the town where I bought the most heroin back when I was using that drug) arguing to prove who is more informed about the fact that addiction is a disease:
"To date, the only solution Mr. O'Connell has proposed to the regional opioid crisis is to try to lower the unemployment rate….The problems with Mr. O'Connell's comments on substance abuse are in his misunderstanding of addiction as a disease, and in his suggestion that this problem is largely confined to people in poverty."

"People who are suffering in active addiction cannot be saved by jobs; they need treatment and a path to recovery. This is not Mayor Morse's view alone; it is the view of addiction experts," the Morse campaign press release said.

O'Connell, in a response (see below) emailed Friday, said Morse was trying to distort the record "again."

"He wants the voters to believe that my only thoughts on opioid addiction are that poverty leads to addiction and suggests that I don't understand that addiction is a disease that crosses socioeconomic boundaries. It's shameful that he would seek to politicize this national tragedy that affects so many people in so many ways," O'Connell said.

"It's nearly incomprehensible that Alex Morse would attempt to claim that I don't understand that addiction is a disease. I have a master's degree in nursing and I have run a health care business for over 30 years. I understand more about disease, including addiction, than Alex Morse will ever know," O'Connell said.
Article #3 in Pacific Standard seeks to inform us about "5 new approaches in treating addiction as a disease" and intros thusly:
Addicts are often lumped into a single category, portrayed in the media as morally bankrupt and lacking in willpower. These preconceptions bleed out into the scathing arena of public opinion, especially when a celebrity dies of addiction-related causes…. While AA undoubtedly does much good (it offers social sanctuary to those struggling with addiction), it also asserts that addiction is a disease while offering no medical treatment for it.

Meanwhile, emerging research reveals genetic and physiological roots of addiction, for which medical treatments are proving more effective than 12-step programs (though they can be done in conjunction). Plus, finally, all Americans have a legal right to receive substance-abuse treatment under the Affordable care Act.
Article #4 is by some hack from Betty Ford who talks about children getting the disease of addiction, and maybe he isn't screaming so much as droning on about it and completely taking it for granted as uncontested. It's one of those gems where he says you can "catch" this disease, that it's a "disease of silence, secrecy, and shame" and that it's a "family disease" and all manner of nonsense. Family disease? God I really need to write about that crock some day, but I'm really running out of patience.
Article #5 is literally titled "Addiction Is A Disease, Not A choice", so that should be enough said. It's a local article by a local author on a local news site doing his part to spread awareness about the disease of addiction, the availability of addiction treatment, and how superior this approach is to the supposedly only other alternative – the drug war. This article celebrates National Recovery Month, during which, according to SAMHSA:
Each September, tens of thousands of prevention, treatment, and recovery programs and facilities around the country celebrate National Recovery Month. They speak about the gains made by those in recovery and share their success stories with their neighbors, friends, and colleagues. In doing so, everyone helps to increase awareness and furthers a greater understanding about the diseases of mental and substance use disorders.
Article #6 is about a concert/rally to raise awareness about addiction in Cape Cod Some snippets:
Between sets by Walsh and Goo Goo Dolls singer John Rzeznik, speakers included recovering addict and former U.S. Rep. Patrick Kennedy, Michael Botticelli, the director of the U.S. Office of National Drug Control Policy, and U.S. Surgeon General Dr. Vivek Murthy.

…

But, unlike diabetes, treatment for the disease of addiction is underfunded by insurance and stigmatized by society.

…

"We're at the dawn of a new era," he said. "This is an illness, a misunderstood illness."

…

This weekend he came to Washington, D.C. to be part of a new generation, one that knows personally what it's like to be controlled by drugs, to commit crimes, to be hated and feared. And if the advocacy at the UNITE to Face Addiction Rally takes hold, he may know what it's like to be understood as sick with a brain disease.

…

"Addiction is a disease," Botticelli said to the crowd of thousands. "Jails and prisons should not be the treatment of choice."

…

As for O'Malley, he plans to continue working to make sure the public understands addiction is a disease.

"I know what a choice is. I know what a habit is. I have plenty of those," he said. "But this is different. I've cried using (drugs) because what your brain is telling you to do is, 'Do it or you'll die.'"
Article #7 is about walk to raise awareness about recovery in Cape Town, and the headline says that South Africa "must understand addiction is a disease."
Article #8, titled "Looking at drug addiction as a disease" discusses a girl in Delaware recently in recovery who has come to believe she has a disease. The article goes on to say:
many health experts and rehab specialists agree with Sarah. They're trying to change the way people view drug addiction.

Delaware Department of Health and Social Services Secretary, Rita Landgraf, says the first step to saving lives is looking at addiction as a disease. "How do we also look at this from a health perspective and not a law enforcement (perspective)," says Landgraf.

and…

"This is a complex, complicated disease, that for far too long has not been recognized as a disease," says Landgraf. "So, we're doing a lot of catch up."
Article #9 Is a press release from Columbia University that reads:
NEW YORK, Sept. 22, 2015 /PRNewswire/ — That's Right, Addiction is a Disease. Addiction is a serious and complex disease. It disrupts regions of the brain that are responsible for reward, motivation, learning, judgment and memory. It also damages various body systems, as well as families, relationships, schools, workplaces and neighborhoods. But it doesn't have to be this way. By better understanding addiction, we can improve health and save lives.
And it promotes some garbage propaganda video they made:

Article #10 Laments that doctors just don't know that addiction is a disease and that they need to learn this so they can diagnose it and treat it. Some snippets (link):
Next year marks 60 years since the American Medical Association declared alcoholism a disease. Yet the stigma associated with addiction has persisted in the general community as well as the health care system.

…

Despite scientific evidence that addiction is a chronic brain disease that can affect anyone regardless of race or socio-economic status, most people tend to visualize addicts as a homeless person under the bridge…

…

Training makes diagnosis possible and reduces stigma as physicians learn addiction is a disease and can be treated.
So please, don't tell me nobody is screaming that addiction is a disease. They most certainly are screaming it, and they never stop. Not only are they screaming, they also set up stages with massive sound systems of unknown wattage in order to blare their message across the land.
And please, don't tell me "nobody cares if it's a disease or not" as countless commenters who clearly care enough to enter their opinion have done over the years.
And please, don't tell me it doesn't matter. It matters to someone, or else why wage a non-stop PR campaign on the issue???