I'm constantly referencing this study in my writing, so I figured I should post up the main information from it here.  The study is an analysis of data from 2001-2002 National Epidemiologic Survey on Alcohol and Related Conditions, or NESARC for short.  This data is relevant because it comes from a survey representative of the US population as a whole – unlike many addiction studies which only survey people who go through treatment programs.  Those studies often find that people relapse quickly without continued treatment, leading to the erroneous assumptions that addicts can't quit without treatment, or that addiction is a chronic disease, and especially that abstinence is necessary and that successful moderation is rarely attainable – among other nonsense.   But what we find when we broaden our scope, like in this study, is that the majority of people with Substance Dependence (as defined in the APA's DSM-IV) actually quit on their own without any sort of treatment or 12-step involvement.  Here is the most important table from the study, so you can look at the numbers yourself: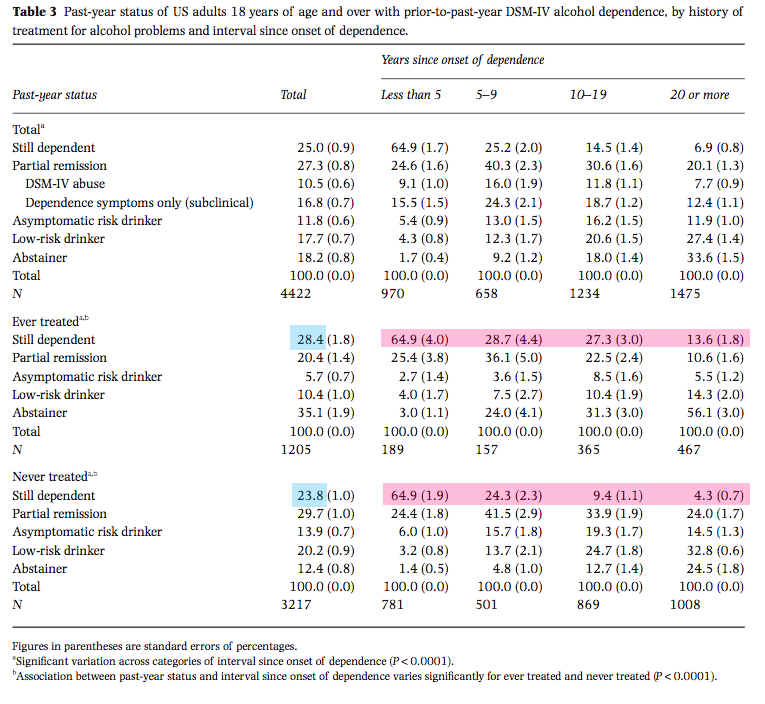 It's important to realize that this is representative of the general population.  They are questioned about past substance use and diagnosed with the DSM-IV criteria for Substance Dependence.  This study proves a few key points that directly contradict the common knowledge about addiction:
Point #1: Most People Cease to Be Substance Dependent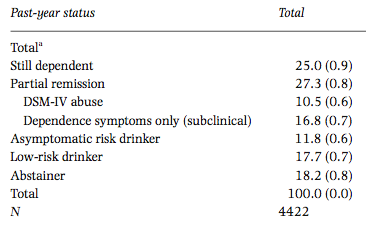 The fact is that at any given time, of people who could be classified as Dependent in a time prior to the past year, only 25% of them are still dependent.  That leaves the other 75% as no longer Dependent.  This one fact proved by this study offers a lot of hope for those with substance use problems.  The odds are that you are three times more likely to end your addiction than you are to continue your addiction!  We know this from the data above and in Figure 2 (shown to the right).
Point #2: You Have A Better Chance of Ending Your Addiction If You Are Never Exposed To Treatment Programs or 12-Step Programs.
The study breaks the total group down into those who have received treatment (including 12-step group involvement) and those who haven't ever received treatment.  If you look at the numbers I highlighted in blue on the table above you'll see that 23.8% of those who were never treated are still dependent – yet 28.4% of those who have been treated are still dependent.  This means your chance of resolving your substance use problem may be better if you simply avoid treatment!
The recovery culture claims that you cannot end your addiction without treatment or 12-step meetings, but the facts show that a higher percentage of people end their dependence without ever getting this kind of "help".  Moreover, in raw numbers, most people stop without treatment.  If you look at the table you'll see that the total number of people participating in the study is 4,422, of which 1,205 have been exposed to treatment, and 3,217 have never been treated.  That means that in this study, 2,451 people ended their dependence without treatment, while only 862 ended their dependence with treatment.  Another way to express this – 73.9% of those who end their Substance Dependence do so without treatment!
Point #3: Long-Term Success Is More Likely Without Treatment
If you look at the numbers I highlighted pink in the table above you'll see that they represent success rates at various intervals since onset of dependence.  What this means is when we look at the first number, for example, we learn that 64.9% of people who have received treatment, and whose addiction started sometime in the past 5 years, are still dependent.  The interesting thing about this is that the number is exactly the same for untreated individual whose addiction began in the past 5 years!  So in the early years, there is no difference in outcome whether you get treatment or not!  The numbers stay close for people whose problem started 5-9 years ago (with the untreated group doing slightly better), but when we get to the group whose substance problem began in the range of 10-19 years ago we start to see a massive gap between the the treated and untreated subgroups – at this point we see that only 9.4% of the untreated group are still dependent, while at the much higher rate of 27.3%, those who attended treatment and 12-step meetings are nearly three times as like to have been dependent in the past year!  What does this say about your long term chances of success in the conventional recovery culture?  This group is no anomaly either, when we get to those whose problems started 20 or more years ago we see the untreated group doing great with only 4.3% still dependent, while the treated group is now doing more than 3 times worse with 13.6% still dependent.
The recovery culture has advocated longer and longer stays in treatment, to the point that they're now telling people to mortgage their homes to pay for a full year of inpatient treatment, and then coming up with all sorts of "aftercare" plans for out patient treatment, sober living houses, long-term pharmaceutical treatments, and a lifetime of 12 step meetings.  Meanwhile, the facts are the facts, and the numbers above prove that they should really be advising us to stay away from treatment for the rest of our lives, if we want long term success.  But if you want a life of "recovery", maybe you should stay in treatment.
Point #4: Moderate Use Is A Possible and Probable Outcome For Resolution of Substance Dependency
In the table above,  the groups of numbers directly below those highlighted blue represent non-abstinent recovery from Substance Dependence.  A large number of people fit into this gray area where they are drinking, but not to a threshold that qualifies them as addicted.  The categories are defined in the study as follows:
Five categories of past-year status were used in this analysis:

1. Still dependent: had 3+ positive criteria for alcohol dependence in the past 12 months.

2. Partial remission: did not meet the criteria for alcohol dependence in the past 12 months, but reported 1+ symptoms of either alcohol abuse or dependence.

3. Asymptomatic risk drinker: past-year risk drinker (see definition above) with no symptoms of either abuse or dependence in the past 12 months.

4. Low-risk drinker: past-year drinker with no symptoms of either abuse or dependence and who was not classified as a past-year risk drinker.

5. Abstainer: did not consume any alcohol in past year.

People with PPY alcohol dependence were classified as being in full remission in the past year if they were in categories 3, 4 or 5. They were classified as being in recovery if they were in categories 4 (non-abstinent recovery, i.e. NR) or 5 (abstinent recovery, i.e. AR).
It should be mentioned that the Partial Remission category has a relatively low threshold, in that respondents may fit the category by reporting only one symptom of the DSM-IV Substance Abuse and Substance Dependence criteria – i.e. – if you drink, and you have an argument with a family member about drinking – then that would be a "symptom" of Substance Abuse, and you would be considered to be in partial remission.  But who's to say the fact that you got into an argument with a family member means that you are anywhere near "dependent" on a substance?  Many in this category could be safely considered moderate users.
Also, you should know that "Asymptomatic Risk Drinkers" are those who didn't have any symptoms of abuse or dependence, but drank at these levels: for men- drank more than 14 drinks per week on average or had 5 or more drinks in one day at least once in the past year.  For women – drank more than 7 drinks per week on average or had 4 or more drinks on a single day in the past year.  Notice that you don't even have to drink every day or drink the 7 or 14 drinks per week, you can be considered an asymptomatic risk drinker in this study if you have one day of somewhat heavy drinking.  So – pop open five beers over the course of a 4th of July picnic, or finish off a bottle of champagne  on New Year's Eve, and bingo, you're an asymptomatic risk drinker.
I bring all this up not to criticize the study, but only to show that the lines in between "Still Dependent" and "Abstinent" aren't so clear.  What is clear,  is that there are a large number of people who fall between these two poles, and thus a large number of "moderate" drinkers.  This is important to realize, since the recovery culture doesn't allow for moderation as a success story – they believe it's abstinence or nothing, and in fact they actively teach people that once they've been Substance Dependent, a single drink will rapidly escalate them back into full blown substance dependence.  The facts show that this clearly isn't the case.  Moderation is possible, and indeed a probable outcome for people experiencing DSM-IV Substance Dependence.
The numbers also suggest that the all or nothing message of the recovery culture is a powerful one – for better or for worse.  The percentage of abstainers in the treated group is nearly 3 times that of the "never treated" group (35.1% vs 12.4% respectively), which some may look at in isolation, and declare that treatment is clearly successful.  But, with 28.4% still dependent, the path of treatment produces nearly 20% more failures than the path of no treatment (23.8% still dependent).  This is not shocking, when you consider that those who attend treatment are taught in no uncertain terms, repeatedly, that a single drink will lead to a complete loss of control over drinking.  Likewise, the "never treated" individual has less exposure to the all or nothing recovery message that a single drink will lead to full alcoholic breakdown/relapse, and accordingly, more of them fit into the area between the 2 poles of dependency and abstinence.  When we sum up the 3 middle categories (2, 3, & 4 on the list above), we see that 63.8% of the "never treated" group fit into the middle, while only 36.5% of the treated group fit into these middle categories.  While the all-or-nothing message may push more people towards abstinence, it may also push more people towards full blown Substance Dependence.  Furthermore we may interpret the subcategory data relating to time since onset of dependence as evidence that the all-or-nothing message delays progress, as I discussed in point #3 that in the long run, as we look at people who are further and further away from the time when their substance dependence started, the percentage of treated individuals who are still dependent (13.6%) is more than 3 times higher than the percentage of "still dependent" in the never-treated group (4.3%).  They start out with identical success rates, but over time, the untreated group clearly does better – what happens in between for the treated group is debatable, but I believe the all-or-nothing message sends them on a roller coaster ride between periods of struggling to painfully hold onto abstinence one day at a time, followed by explosions of full blown "addiction".  Were they able to accept a something in between these two poles, they might just live and learn, and get to a happier life free of Substance Dependence sooner, as the never treated individuals seem to do at a better rate.
Some may take issue with my further interpretations of this data, and they may have legitimate points, which is why I posted the table for you to look at and judge on your own, and cited the source below.  The basic point though, I believe holds strong: most people recover from substance dependence, with or without treatment.
Source: Recovery from DSM-IV alcohol dependence: United States, 2001–2002 Deborah A. Dawson, Bridget F. Grant, Frederick S. Stinson, Patricia S. Chou, Boji Huang & W. June Ruan Laboratory of Epidemiology and Biometry, Division of Intramural Clinical and Biological Research, National Institute on Alcohol Abuse and Alcoholism, National Institutes of Health, Bethesda, MD, USA
Does this say anything about 12-Step based help?
Yes, it absolutely does. A later paper by the same author about the same date broke down the kind of help received by the treated group. Of that 25.5% who sought help for their alcohol dependence, they included:
3.1% who had participated in 12-Step programs only, 5.4% who had received formal treatment only and 17.0% with both 12-Step and formal treatment. Based on the most appropriate model, help-seeking increased the likelihood of any recovery [hazard rate ratio (HRR) = 2.38], NR (HRR = 1.50) and AR (HRR = 4.01).
So 20.1% attended 12-step meetings, and only 5.4% went to treatment without also attending 12-step meetings. That means approximately 80% of the treated group attended 12-step meetings. Surely, these results apply in some way to the effectiveness of AA. What's more, approximately 80% of treatment programs use a style of counseling called Twelve Step Facilitation, which promotes the teachings of AA, and most other substance dependence counseling methods employed in formal treatment programs also involve teachings from 12-step programs. So it's safe to say that the rest of the group who didn't attend AA meetings were nonetheless taught the principles of AA while in treatment.
The majority of the treated group was definitely indoctrinated with the 12-steps of Alcoholics Anonymous.
SOURCE: Estimating The Effect of Help Seeking on Achieving Recovery From Alcohol Dependence.
This study doesn't give us all the answers, but it's one of the most solid pieces of information we've got in the world of addiction.  There is plenty more information I'd like to know, but this is still enough to draw some very important conclusions from.  With that said, there are limitations I should make you aware of in the interest of open debate.  It doesn't count people who are currently institutionalized i.e. prisoners.  Nor does it account for deaths caused by substance use.
The deaths point is important, because many people bring that up as a big gotcha when discussing these figures. However, I recently attended a talk given by Stanton Peele at NYU where he mocked the claim that deaths account for what appears to be success among the untreated population – he wrote about this in one of his HuffPo columns:
The research led the NIAAA to announce its discovery that "alcoholism isn't what it used to be," reversing decades of the NIAAA's forceful adherence to disease and abstinence memes. Meanwhile, the NIDA's National Survey on Drug Use and Health shows that peak abuse of and dependence on drugs and alcohol occurs from ages 18 to 25, and declines by a third after age 25, and by half after age 30.

…Meanwhile, how many times have I heard harm reduction people account for the decisive fall-off of substance abuse with age: "Why, they all die!" (One in 10,000 people in this age group dies per annum due to drug overdoses, which occur mainly for older abusers.)
I liked Stanton's point, and he linked to the CDC as his source for the 1 in 10,000 number for that age group: link.
Also, a new study out of Germany on alcoholism mortality rates concludes that treatment makes no difference in the mortality rate of alcoholics:
Annualized death rates were 4.6-fold higher for women and 1.9-fold higher for men compared to the age- and sex-specific general population. Having participated in inpatient specialized alcohol dependence treatment was not related with longer survival than not having taken part in the treatment. Link
So much for the claim that the success of untreated alcoholics over time is a mere illusion created by their rapid death rates! In light of this, we need to wonder whether the absence of data on prisoners may be just as insignificant to the analysis of this study.
The results discussed above are for alcohol users. What about drug users? Well, it appears more NESARC data has poured out, showing at least that recovery from drug use is highly probable – even more so than from alcohol. The same sort of data hasn't been released regarding treated vs untreated, unfortunately.  With that said, alcohol and illicit drugs affect the brain in nearly identical ways, they are used for the same reasons, they effect people's lives in the same basic ways (with the exception of the illegality of drugs and the extra consequences that imposes), quitting drugs or alcohol is achieved in the same way, and both addictions are "treated" in the same way professionally (except for the exceptions some make in separating drug addicts from alcoholics in an attempt to preserve the fragile egos of some alcoholics).  So, NESARC hasn't yet given everything I want in a study, but personally, I feel safe concluding that the same basic principles apply across substances, given the current information. I'll be adding an analysis of the NESARC drug data zoo, and will link it here when I do (2/11/2014).
For those who would dismiss the data because they don't know exactly how much treatment the treated group received, I would say this: show me the treatment that gets a better than 75% long term success rate, and then we can talk. Even Hazelden, the gold standard of treatment, doesn't claim a higher than 60% success rate, and personally I think that claim is bunk, since I've called and asked for supporting documentation on that claim more than once and they've refused to provide it (and by supporting documentation, I don't mean that I want to see their surveys, records, etc – I just want to see what their criteria was and how they came up with that number – yet they offer nothing but the number itself).