It is said that addicts and alcoholics literally lose control of their substance use after a single drink or hit of a substance. This is the main feature of the disease model of addiction. But is it true? Do they really become zombies who have no choice but to relentlessly use drugs and alcohol? The recovery culture says it's true, but scientific research paints a different picture…
Loss of Control in Addiction and Alcoholism
The main feature of addiction is "loss of control." This is what separates heavy substance users from so-called addicts and alcoholics. Heavy users have control of their substance use, but "addicts and alcoholics" – those with the "disease of addiction" – are those who supposedly do not have control over their substance use. Drinking and drugging happens, without their choice – involuntarily – as a matter of compulsion. As the National Institute on Drug Abuse says, the disease of addiction results in:
compulsive behaviors that override the ability to control impulses despite the consequences (Link)
Get it? Addicts don't have a choice in what they're doing, according to the ruling paradigm of addiction as a disease.
The most basic form of the loss-of-control claim says that once an addict / alcoholic uses any amount of a substance, they cannot stop using on their own. Some force must intervene – again, the addiction overrides the individual's control of their own behavior. Either they drink themselves to unconsciousness; get locked up in jail; or are forced in some other way to stop. In this model, taking a single drink or hit of a substance is like opening a floodgate.
This theory is most famously peddled in 12-step programs, where it is taught that a single use of any substance will quickly progress to uncontrolled usage of your favorite substance (a "relapse").
Recovered alcoholics in Alcoholics Anonymous speak of "loss of control" to denote that stage in the development of their drinking when the ingestion of one alcoholic drink sets up a chain reaction to that they are unable to adhere to their intention to "have one or two drinks only" but continue to ingest more and more–often with quite some difficulty and disgust–contrary to their volition.
It is also said that accidental exposure to an intoxicant will set off the chain reaction too – for example, eating a dessert that contains alcohol such as tiramisu. Some take this so far as to believing that the usage of a mouthwash, aftershave, or even hand sanitizer (products containing small amounts of alcohol) will trigger a relapse as well. Or that taking a prescribed painkiller after a surgery will do the same. I'm sad to say I've heard plenty of people to whom this has happened – they ate a tiramisu and "relapsed." But the fact is that this experience is the product of a placebo effect rather than a biological weakness.
When people believe that any consumption of an intoxicant will cause a total binge, then that's what they proceed to do. In a famous randomized controlled trial, those who were taught the loss-of-control / allergy theory of alcoholism experienced binge rates 9 times higher than people who weren't taught this theory (read about that research at this link). Here's a quick video of a true believer of this theory taking it to its logical conclusion – she won't use hand sanitizer for fear that the alcohol it contains will seep into her skin and cause her to "relapse":

But is there any proof that exposure to drugs and alcohol causes a loss of control chain reaction? Is there any real reason for such paranoia?
As far as I can tell, no proof of this claim has ever been found. Furthermore, the best research ever carried out to test this claim shows the exact opposite to be true. Reliable research going back almost 50 years now shows that addicts and alcoholics are making choices about their substance use at all times.
[I encourage anyone who thinks they have actual evidence/proof of loss of control to enter it in the comments below, but keep in mind that 1) evidence of irrationality is not evidence of loss of control and that 2) brain scans can only be "evidence" of loss of control if they support a sound argument for loss of control. – notice that both of those points are links to articles where I've dealt with this sort of "evidence", and check them out if you plan on submitting evidence below]
Alcohol Priming Dose Experiments
The priming dose experiment is quite simple. Since the theory is that the first drink of alcohol chemically triggers off uncontrollable drinking in an alcoholic, this is directly tested by getting an alcoholic, giving him a drink, and then watching what happens. There's an important twist though – manipulating whether the "alcoholic" knows that he's drinking alcohol (or not drinking it). The experiments are done this way in order to sort out any supposed zombie-like alcoholic behavior from run of the mill choices.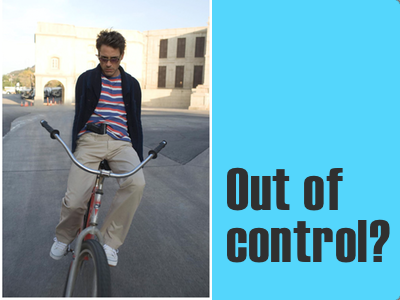 The experiment has been carried out in many ways. For example, one experiment gathered alcoholics who had previously been begging for alcohol on the streets. They were brought into the hospital for an extended stay to detoxify and be nursed back to health. They were given vitamin drinks each morning and were questioned later about their level of craving. On some days, the researchers put a drinks-worth of hard alcohol into the vitamin drink – disguised in taste and unknown to the alcoholic. The results? They didn't crave alcohol more on those days when they had been "primed" with a shot in their morning drink than they did on the days when they weren't slipped alcohol. Nor did they check themselves out of the hospital to get drunk.
Another priming dose experiment invited alcoholics to taste-test a new brand of tonic water. As you can imagine, there was alcohol mixed in to a degree where it would be undetectable, and they were unaware that they were drinking alcohol. They had access to a pitcher of the mixture and were allowed to drink as much as they want. Again, they didn't proceed to "drink uncontrollably" once they got a drinks-worth of alcohol into their system. And when compared to a group whose tonic was really just tonic (without alcohol) they didn't drink more. The test subjects who were told that their drink contained alcohol were the only ones who drank more – whether the drink really contained alcohol or not! What this shows is that heavier drinking is not a chemically triggered zombie behavior – in fact it is a simple goal driven behavior. When the test subjects believe that drinking the drink will get them drunk (and when this is a state that they desire), then that's when they are motivated to do so, and tend to follow through.
In the 1982 book Controlled Drinking by Nick Heather and Ian Robertson, the authors reviewed 9 such experiments that took place as early as 1966 (almost 50 years ago now!) – and the basic finding was the same: an initial dose of alcohol (the "priming dose" i.e. "first drink") doesn't result in extreme drinking/craving for alcohol when the alcoholic doesn't know they've had the drink. Thus, we have no reason to believe that this seemingly "uncontrolled" drinking is the result of either some special power of alcohol, or a biological/genetic weakness of the individual. Instead, it is a choice, ruled by cognitive factors like any other choice. As Heather and Robertson noted:
The more important point about these experiments is the implication that drinking behaviour conventionally described as loss of control is mediated by cognitive processes and not by a physico-chemical reaction to ethanol.
Drug Priming Dose Experiments
In the decades since the initial alcohol priming dose studies blew up the "loss of control" notion of alcoholism, similar, but not identical experiments have been done with various drugs. Most notably, neuroscientist Carl Hart PhD of Columbia university has discussed his work in this area in the media recently. His experiments were different, but just as illuminating.
For example, he gathered confirmed "crackheads" as subjects in an experiment where he would give them a dose of crack cocaine (priming dose), and then offer them another hit, or a small amount of money that would go into an account that they could access several weeks later. So for example, he'd present them with the option of another hit of crack, or 12 bucks two weeks from now. He'd vary the prices and the dose sizes, offering as much as $20 as an alternative to another hit of crack, and found that he could find a price at which he could essentially by some abstinence from so-called crack addicts.
How does this fit with our concept of crack and crack addiction? We've been led to believe that a single hit of crack will make you addicted. We've been led to believe that once you smoke some crack you can't stop until you crash and burn. We've been taught that in crack addiction, you become a zombie who will lie, cheat, steal, and do anything you have to do to get more crack. We've been taught that crack addicts are incapable of choosing a delayed reward, and that all they can do is ceaselessly pursue the quick highs of more crack.
Yet even they have a price. The point is simple. If you can say "It might be a good idea to take 8 bucks in the bank that I can use a few weeks from now rather than to have another hit of crack right now", well then you are making a choice. You are not out of control. And what we can safely assume is that when crack addicts are behaving as if they are "out of control" they are really just pursuing what they believe to be their best option at that time. They are choosing. They are "in control" of all of it. Crack has no special power, and crack addicts have no special biological or genetic weakness – or mental illness called addiction. What they have, is the perception that heavy crack use is their best option for how to spend their time. That's not a disease – it's a cognition – it's a belief.
Carl Hart PhD had this to say about his 15 years of research as a neuroscientist at Columbia University:
The more I studied actual drug use in people, the more I became convinced that it was a behavior that was amenable to change like any other…

In one study, we gave methamphetamine addicts a choice between taking a big hit of methamphetamine (50 mg.) or five dollars in cash. They took the drug on about half of the opportunities. But when we increased the amount of money to twenty dollars, they almost never chose the drug. We had gotten similar results with crack cocaine addicts in an earlier study. This told me that the addictive potential of methamphetamine or crack was not what had been previously claimed; their addictiveness wasn't extraordinary. Our results also demonstrated that addicts can and do make rational decisions…
Researcher Nancy K Mello carried out experiments that were similar to Hart's, but with alcoholics in the 60's and 70's. The same finding was present – you could buy sobriety from alcoholics. Furthermore, she set up elaborate systems in with various incentives in which alcoholics would precisely limit their drinking to low limits in order to be rewarded with copious amounts of alcohol on a later date. This is evidence of conscious decision-making on the part of alcoholics – and it explodes the zombie-like notion of "loss of control." You can find this research discussed in more detail in either Controlled Drinking by Heather and Robertson, or Addiction is A Choice by Jeffrey Schaler.
Are Addicts and Alcoholics Lying?
Not necessarily. There may be times when heavy substance users are fully aware that they can stop whenever they want, but they lie by telling others they can't control it. However, probably a majority of the time, they are not lying. They are telling us what they really feel. They truly feel as if they can't stop, and they are conveying this feeling honestly. For them, loss of control is a perfectly real feeling, even if it isn't a physical reality. But where does that feeling come from? It comes from a mindset – a set of thoughts and beliefs about the perceived value of substances, the perceived value of of their perceived options, and their perceptions of their own abilities. Obviously, the popular notion that there is such a thing as an addict and loss of control over substance use is the biggest contributor to this mindset, and thus to the feeling of powerlessness. This is a more complex topic and will be covered elsewhere on this site. For now, please know that there is no scientifically demonstrable "loss of control" of substance use. What looks like "uncontrolled" substance use is actually purposeful, freely chosen, fully controlled behavior.
Summary
If otherwise "addicted" people don't behave in an addicted manner when they've been give a drug without their knowledge, then we know that the drug itself doesn't chemically/biologically/what-have-you trigger the "addict" to behave in an addicted manner. Likewise, if you can buy abstinence or moderation from a substance user, it becomes even clearer that they are choosing. The reality is that there is no such thing as loss of control over substance use. This is highly important, because the truth matters, and we must understand the nature of "addiction" if we hope to change it. Trying to regain control that was never lost in the first place is a wild goose chase. It will be far more productive to understand what motivates the heavy substance use in the first place, than to invest in a myth that only serves as a temporarily comforting excuse for behavior that is otherwise ugly.
The information on alcohol priming dose experiments referenced in this article comes from:
Heather, N., & Robertson, I. (1983). Controlled drinking. London; New York: Methuen.
The quote on methamphetamine and crack cocaine priming dose experiments comes from:
Hart, C. (2014, March 10). What Is Addiction? The New York Times. Retrieved from http://www.nytimes.com/roomfordebate/2014/02/10/what-is-addiction/as-with-other-problems-class-affects-addiction