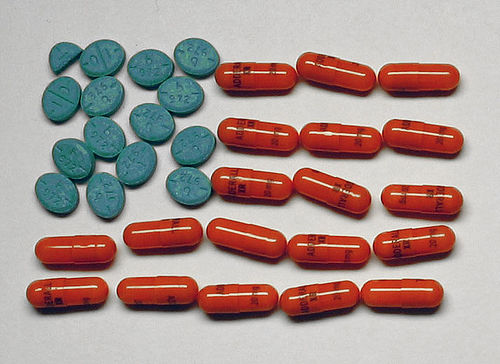 A recent article in the New York Times tells the tragic tale of a young man, Richard Fee, who committed suicide after a few years of heavy Adderall use and psychotic episodes which were probably related to/caused by the drug use. Adderall, a prescription medication used to treat ADHD, contains two types of amphetamine –  a substance known in the recreational drug world as speed.
It's a well documented tale of a highly driven college student deliberately seeking a prescription for the drug so that he can use it for long study and schoolwork sessions. The article also discussed how common such drug use has become on college campuses. Adderall, along with Ritalin, is the performance enhancing drug of choice for students.
If you want to know more about all of that though, go read the original article: Drowned in a Stream of Prescriptions. What I'm concerned with here, is a few interesting statements about addiction that came out in the piece. The first one, by a fellow student who had witnessed many students popping Adderall, contains a common premise of addiction:
"I guarantee you a good number of them had used it for studying — that shock was definitely there in that room," said a Greensboro baseball teammate, Danny Michael, adding that he was among the few who had not. "It's so prevalent and widely used. People had no idea it could be abused to the point of no return."
So there's that idea, that a drug can be used "to the point of no return". And it doesn't seem that he means death, but rather he means that if you use a given drug too often, you cross some invisible line whereupon you no longer have any control over your actions. This is the prevailing view of addiction, nothing new. But a few paragraphs later, a neuropsychologist gives an interesting picture of just how these drugs are doled out:
"You don't have everything that happened with this kid, but his experience is not that unusual," said DeAnsin Parker, a clinical neuropsychologist in New York who specializes in young adults. "Diagnoses are made just this quickly, and medication is filled just this quickly. And the lack of therapy is really sad. Doctors are saying, 'Just take the meds to see if they help,' and if they help, 'You must have A.D.H.D.' "
Toward the end of the piece, another doctor sees no problem with this:
"If you misdiagnose it and you give somebody medication, it's not going to do anything for them," Dr. Katz concluded. "Why would they continue to take it?"
The way these two quotes are placed in the article, the implication is that this second doctor is irresponsible, and dangerous. And I don't happen to disagree with that. But the other implication is that while they're taking it, like the unfortunate Richard Fee, they'll cross that invisible line into loss-of-control addiction. But skipping back to Dr Parker's comments, there's a more reasonable explanation:
Dr. Parker added: "Stimulants will help anyone focus better. And a lot of young people like or value that feeling, especially those who are driven and have ambitions. We have to realize that these are potential addicts — drug addicts don't look like they used to."
This is the quote I love, because I think it's honest and logical – people "like or value that feeling". I don't doubt that Richard Fee was damaged by the drugs, but I think that our approach to addiction has to be more in line with Dr Parker's comments. People continue to use drugs heavily because they perceive that it has benefits for them. He was driven and had ambitions, he liked and valued the feeling of adderall, he thought it would help him to achieve his dreams, and part of him just liked the feeling provided by the drugs. It doesn't have to be so mysterious and unsolvable as a brain disease. We can approach substance use as a value/purpose driven behavior, and help people to question that value, and to look for more valuable behaviors and choices. It seems that through the entire article, the theme was that none of the doctors who were supposed to be helping Richard Fee cared to spend any time discussing such things with him. They only spent five or ten minutes at a time talking with him, and simply prescribed more drugs. They missed the big issue going on within the person, because they were focused on the brain. His parents seemed to recognize that he needed more attention, but ultimately (and tragically), the men in white coats had more credibility and authority in Richard's mind.